Body of dog recovered from Norfolk Broads river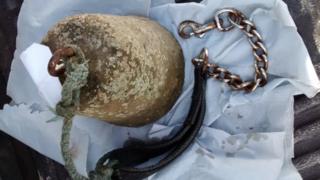 The body of a dog has been recovered from a river tied to a concrete mud weight.
The RSPCA has started an investigation after the German shepherd was found dead in the River Thurne at Potter Heigham on Tuesday afternoon.
It was spotted by concerned members of the public who rushed to try and save it. The dog was attached to some blue rope and a weight.
RSPCA deputy chief inspector Ben Kirby appealed for information.
He said: "This is a potentially an extremely despicable act if this poor dog was still alive when it went into the water. And this would mean it was premeditated cruelty of the highest order.
"If the post mortem shows that this dog was dead then this was still a morally inappropriate way to dispose of a body."