Owner urged to claim 'Monty' python found near Broads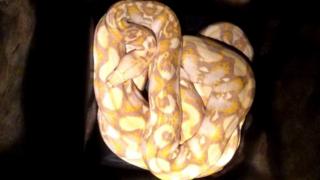 The owners of a 10ft (3m) python have been urged to come forward after it was found in grass next to a car park in Norfolk.
The cream snake was spotted by a couple near the Mermaid's Slipper restaurant at Stalham Staithe on Friday evening.
Restaurant owner Richard Mottram, who dubbed the reptile "Monty", put it in a wheelie bin near a boiler to keep it warm overnight.
The RSPCA said it was "at a loss" as to where it had come from.
It has urged the reptile's owner to come forward.
"We called the python Monty after the TV programme," said Mr Mottram.
"It had very smooth skin and was very strong. I lifted it up and it wrapped itself around my arm. You would not want it around your neck."
The non-venomous snake was found near Sutton Broad, a large expanse of water near the restaurant.
"The animal must have come a long way," said Mr Mottram. "It's a very busy main road here and he was lucky to survive.
"I hope the owner is traced and it's a happy ending."