Bikers caught speeding at 155mph on A47 near Norwich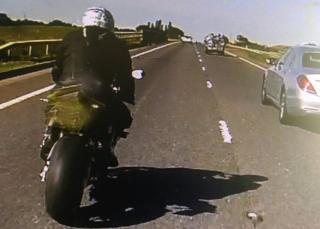 Five motorcyclists who were on their way to a track day were caught riding at speeds of up to 155mph.
The three men and two women were stopped by an officer on the A47 near Norwich on Sunday.
A message posted by the Norfolk and Suffolk Roads Policing team on Twitter said: "Crazy speeds over 150mph and undertakes on A47 are mad risks."
Norfolk Police said the bikers were reported for traffic offences and are likely to face court action.
The force said an officer on an unmarked police motorcycle spotted the five "high-powered sports bikes" heading westbound at Postwick at about 09:00 BST.
One of the riders was seen undertaking a car at more than 100mph, police said.
The bikers, who were stopped at the A140 junction, told the officer they were going for breakfast then a track day on their bikes.
PC Mark Carter, from the roads policing unit, said: "Although motorcycles can be enjoyable we would ask all riders to be responsible and ride safely and within speed limits."