Former Norfolk PE teacher jailed for child sex offences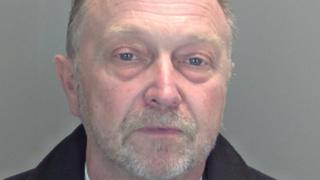 A former PE teacher who was extradited from Australia to face sex abuse charges has been jailed for five years.
Glyn Jones, 57, admitted seven counts of indecently assaulting girls under the age of 16 on the first day of his trial at Norwich Crown Court.
Judge Antony Bate described him as a "clandestine sex offender" who had abused pupils in Norfolk since he was at teacher training college aged 19.
Jones carried out the crimes between 1976 and 1996.
A teacher for 30 years, he taught at two schools in Norfolk before leaving the UK.
The charges against him related to six girls aged between 13 and 16 at the time.
Judge Bate told the court Jones had used teaching as "a charade and a device" to abuse his victims.
"Your misconduct towards them was a gross abuse of the trust placed in you by their parents, fellow members of staff and your employers," he said.
"In fact, as a consequence of your pleas to this indictment, you had been a clandestine sex offender since the age of 19, when you were a trainee teacher at college in Plymouth."
Some of his victims were in court and others watched his sentencing via video link.
'Sick and dirty'
One released her victim statement after the trial.
"The realisation that I was a victim of child abuse was crippling," she said.
"I torture myself daily with questions such as 'why me? Did I do something wrong? Did I bring this on myself? Was it my fault?'
"But I was just a child. A young girl who trusted someone - someone who was in a position of trust - who used that position to manipulate me and make me his sexual fantasy.
"I feel sick and dirty at the thought of that."
Jones, from Upper Coomeera, a suburb near Brisbane, was placed on the sex offenders register for life and banned from ever working with children.