The Indian Army colonel and the birth of local BBC radio in Norwich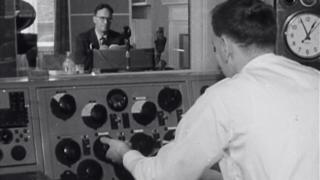 BBC Local Radio is marking its 50th anniversary this year. But why had the corporation been broadcasting from Norwich a decade before that?
It all began with the dawn of VHF, or Very High Frequency transmissions for East Anglia - what we would now call FM - in the mid-1950s.
VHF enabled higher-quality broadcasts, but also meant they could be focused on more specific areas.
The search was on for a radio headquarters in the East of England, and the BBC found a converted Georgian mansion at St Catherine's Close in Norwich, moving in on 10 September 1956.
VHF transmissions from Tacolneston, south of the city, meant the Norwich studio could 'opt out' of the Home Service at certain times, providing their own programmes.
These transmissions began just before Christmas and a few weeks later, on 5 February 1957, the first dedicated East Anglian programme was broadcast.
In March 1958 a daily East Anglian news bulletin was added on weekday evenings at 18:15, produced by Dick Robinson, and one of the readers for Mr Robinson's bulletins was Lt Col R.E.S. Ingram-Johnson.
"He was a retired Indian Army colonel," Mr Robinson remembers. "He was a heavy smoker and he had a cough, so one of the engineers put a button on the table so he could press that, have a good cough, then go back on the air."
A journalist who arrived at St Catherine's Close in the early 1960s was future foreign correspondent, and later MP, Martin Bell. He also remembers Col Ingram-Johnson.
"He had a wonderful posh old upper-class voice. It was altogether of another age, and our newsreaders belonged to that."
The St Catherine's Close studio also played a part in demonstrating that full-time services for more localised areas were viable, when a "Radio Norwich" pilot, lasting only a day, took place on 20 June 1961.
There was a full schedule of programmes, made as if it were all live, but being recorded to tape instead.
The tests worked, and the BBC was given the go-ahead to launch local radio.
But when the new services eventually began in 1967, Norwich did not get one. The first stations had to be part-funded by local government, and the city council made a much lower offer than the BBC was seeking.
There was to be no BBC Local Radio in East Anglia until Radio Norfolk arrived in 1980. Until then, the regional output from St Catherine's Close continued after 1967 as part of BBC Radio 4.
BBC East television, having joined radio at St Catherine's Close in 1959, remained there until 2003, when TV and radio in Norwich moved back in under one roof at the city's new Forum building.
Nowadays, St Catherine's Close is mainly remembered as the original home of BBC Look East.
Few now recall that it was also the birthplace of East Anglian radio and played a significant part in demonstrating that the local radio network, which now covers England, was a viable prospect.
The Network That Never Was, the story of the BBC's early days in Norwich, is on BBC Radio Norfolk on 28 August at 12:00 BST. Broadcasting on 95.1, 95.6 and 104.4 FM, 855 and 873 AM, digital radio and on the iPlayer.