Crew 'put at risk' by offshore gas leak off Norfolk coast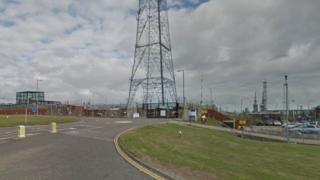 An oil and gas company has been warned by inspectors after 10 workers were put at risk when gas leaked on a offshore platform.
It happened when the crew travelled to the normally unmanned Perenco platform in the southern North Sea on 16 June.
The Health and Safety Executive (HSE) said the crew were exposed to a risk of "personal injury from asphyxiation" and from the effects of fire or explosion.
Last year, a worker died in an accident on another North Sea Perenco platform.
The latest incident happened on the company's gas platform, known as Davy 49/30A, in the southern North Sea, north-east of its Bacton terminal on the coast of Norfolk.
The HSE found the crew had to shelter in an unprotected area below the helideck because the flammable gas release - and the potential for it to ignite - meant evacuation from the installation by helicopter from the helideck "was too dangerous to be used".
They were also prevented from accessing an escape route to the sea or reaching lifejackets and a liferaft.
The workers were eventually collected, with none of them hurt.
The HSE concluded emergency response arrangements and equipment onboard was insufficient to protect workers from fire or explosion or to secure effective emergency response.
In a statement, a Perenco spokesman said: "The correct response procedures were followed, which included an emergency shutdown of the platform and notifying The Health & Safety Executive.
"There were no injuries to personnel or damage to equipment. Throughout the incident, the crew was supported by a safety standby vessel."
The company added that an investigation into the incident was "ongoing".
Perenco bought BP's southern North Sea gas assets in 2012 for $400m.