Cromer disorder: North Norfolk District Council wants greater powers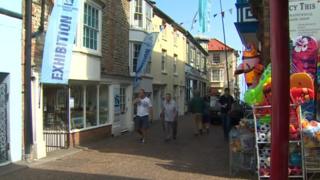 A council responsible for a seaside town that went into "lockdown" wants greater powers to deal with travellers.
There were 37 crimes recorded in Cromer over the weekend - including the rape of a teenager - which residents linked to a group of travellers.
A number of venues closed and the trouble was also reported in neighbouring town Sheringham.
North Norfolk District Council wants to be able to move travellers on if they do not use provided stopping places.
It has written to the Communities Secretary of State, Sajid Javid.
The letter says authorities which spent public funds in providing temporary stopping places should be given the power to move people on immediately when they arrive and pitch up on unauthorised sites, rather than have to apply for a magistrates order.
Council leader Tom FitzPatrick said: "We welcome all individuals and groups who respect our towns and countryside, our residents and other visitors.
"But where people come and set up unauthorised encampments, without thought for others, this does not show any respect and we want the power to move them on immediately and if necessary out of our district.
"Those who don't respect our resorts and visitor areas, whether travellers or anyone else, are not welcome."
About 23 caravans arrived in the town on Friday and parked illegally at Runton Road cliff-top car park.
On Saturday the council served a notice for them to move on.
Norfolk Police confirmed it was warned by neighbouring force, Suffolk Constabulary, that a group of travellers which had been troublesome in Lowestoft was on its way to the county.
People in the town said members of the travelling community had been "intimidating" and "rowdy", had not paid for drinks in pubs and had been abusive.
One man was arrested in connection with the rape on Friday night. He has been released under investigation.