Wayland Prison 'volatile' says watchdog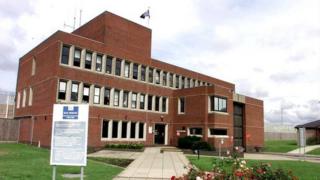 A prison where the governor was severely beaten by an inmate last year has been described as "volatile" by the Independent Monitoring Board.
A report on HMP Wayland, Norfolk, raised concerns that a shortage of staff was leading to "turf wars" between rival gangs and "unrest".
Governor Paul Cawkwell suffered multiple fractures when he was attacked in July 2016.
The Prison Service said it was addressing concerns at Wayland.
The report found that at the beginning of the year only 139 staff posts were filled out of 187 and the jail was losing four officers a month.
The staff shortage has led to regular lockdowns in cells which, combined with the "availability" of new psychoactive substances and other drugs, contribute to "unrest within the offender population", the report found.
It also highlighted the fact that inmates were often sent hundreds of miles from their homes, making family visits difficult and expensive.
A Prison Service spokesman said: "We are committed to transforming prisons into places of safety and reform and have announced a major overhaul of the prison system including 2,500 extra frontline officers.
"While there remains progress to be made, HMP Wayland has already committed to addressing a number of concerns raised in the report, including reaching their target number of staff through a proactive recruitment drive."
In December last year, Thomas Howard, 34, pleaded guilty to two counts of assault causing grievous bodily harm after attacking Mr Cawkwell and was sentenced to three years.
There were a number of reports of disruptions at HMP Wayland in 2016.
In May, about 20 inmates were involved in a "food fight" which broke out during lunch, while two inmates attempted to grab keys from officers in a separate incident in June.
Another HMP Wayland inmate was jailed in June 2016 for an assault on two guards, during which one was bitten, according to police.