Great Yarmouth parents slam strict rules at failing academy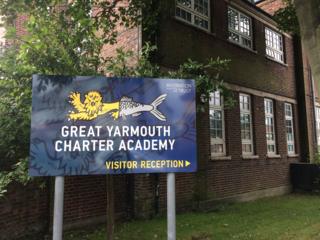 The new head of a failing school has come in for severe criticism after introducing strict new rules to improve pupil performance.
Concerns over the "army-like schooling" at Great Yarmouth Charter Academy have been expressed by parents on Facebook.
New rules include banning mobile phones and children have been told to be in bed by 21:30 every night.
But a spokesman for the school said what pupils needed was "the right environment to learn and succeed".
'Indiscipline, failure'
Great Yarmouth High School was taken over by Inspiration Trust and re-named Charter Academy. Until this summer it had "some of the worst GCSE results in the entire country", according to new principal Barry Smith.
"In a typical class of 30 pupils, 21 pupils left the school without even a pass in English and maths," he said.
"As the headmaster of Charter Academy I cannot, I will not, allow the indiscipline, the disrespect, the failure, the bullying, the truancy and the lack of parental support, that were all a part of daily life at the former high school, to continue.
"There's a lot more to school than just passing exams. Every good teacher knows that. But, when push comes to shove, kids need those grades."
A Facebook page was set up by parent Kelvin Seal, on which parents expressed concern over the strict uniform rules and detention for dental appointments taken during school hours.
Children have been told to be in bed by 21:30 every night and up at 06:30, and warned those claiming to feel sick during lessons would be handed a bucket to vomit in instead of being allowed to leave classrooms.
Seeing a parent and child crying outside the school, Mr Seal told the BBC he politely asked the head: "'Excuse me, why are you doing this to children?' His reply was 'If you don't like it, get out.'"
Inspiration Trust spokesman James Goffin said: "Unfortunately there has been a lot of rumour and inaccurate information spread on social media that has understandably concerned some parents and pupils."
A document shared with the BBC revealed the standards of discipline expected from pupils. The 22-page document included the following:
If you slouch, interrupt, talk, pick up your pen or open a book before you receive the signal, if you turn around, if you nudge your friend, if you make eye contact with your friend, if you look anywhere apart from at your teacher, the board or your work - you will be punished.
You never get out of your chair without permission at Charter.
In corridors, we walk in single file on the left. No bags on our backs. No turning round.
At Charter you listen to every single word your teacher says very, very carefully. You don't pick up your pen or your ruler, or anything else, until your teacher gives you the signal.
Teachers never leave lesson to go to the toilet. You need to be professional too.
Parent Steven Holmes said his daughter came home in tears at the end of her first day in year seven saying she had been shouted at all day.
"I want her to learn not be in fear, " said Mr Holmes. "This isn't about discipline. It's bullying."
Mr Goffin said: "The academy will be holding a meeting for all parents in the coming days so they can hear first-hand what Great Yarmouth Charter Academy is really all about."