RAF Thorpe Abbotts: Attempt to reunite dog tags with families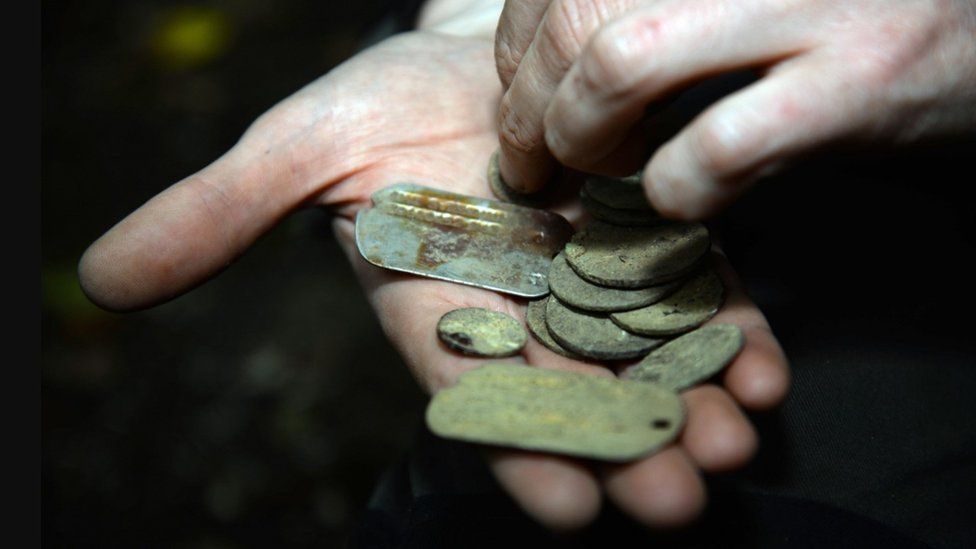 Archaeologists hope to reunite World War Two US Airforce dog tags found on a former RAF airbase with the original owners or their descendants.
The tags and a piece of window from an B-17 Flying Fortress were found at the former RAF Thorpe Abbotts near Diss in Norfolk.
It was home to US bombers of the 100th Bomb Group during the World War Two.
Stephen Humphreys, a veteran of the US Air Force, said finding the tags connected people with the past.
"It's really rewarding to bring people to life again by discovering more about them and recapturing who they were," said the chief executive officer of the American Veterans Archaeology Recovery Program.
The excavation was organised and funded by the University of East Anglia and organised by project manager Dr Derwin Gregory. The former RAF station is on land which is private and not accessible to the public.
The American Veterans Archaeology Recovery Program and volunteers from the Waveney Valley Archaeology Group and the 100th Bomber Memorial Group were invited to take part in the dig.
British Army Lance Cpl Keanie Trick, an amateur archaeologist, said it was "amazing" to "touch history".
As well as the piece of the Flying Fortress and the dog tags, they also unearthed unearthed a grate from a wood-burning stove.
Related Internet Links
The BBC is not responsible for the content of external sites.