Book bus heads to Africa in place of double-decker destroyed in fire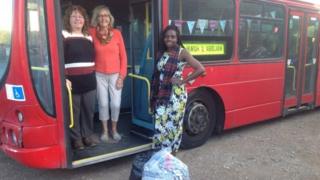 A charitable project that was put in jeopardy when its double-decker bus which was due to take books to Africa caught fire has been saved.
Pub landlady Eunice Jokrassett and other villagers in Smallburgh, Norfolk, had been fundraising to fill a bus with books and parcels since February.
But when they collected the bus in Croydon in July it caught fire en route to Norfolk.
A businessman donated a replacement bus and it is now headed to Africa.
Ms Jokrassett, who is from Ivory Coast, where the bus is headed, said the donated items included books, clothes, car seats and nappies.
"The community have been really supportive and rallied round to the project," she said.
Ms Jokrassett, who runs the Crown Inn, said the bus would be used as a library once it arrives in Abidjan.
"Out there they felt it was better if it was driven from time to time from one school to another, to make it more exciting so the national bus company out there offered to fund a driver," she said.
Fundraiser Eileen Cole said donations had come in from individuals and schools.
"They've given us lots and lots of education resources, they've given us stuff we can donate when we're out there to schools and to orphanages," she said.