Ex-Liverpool footballer 'neglected by mental health trust'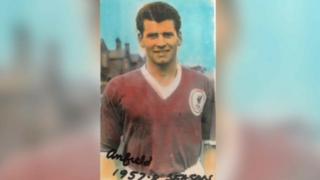 The family of a former footballer have called for an independent inquiry into his death, claiming he was "neglected" by hospital staff.
Frank Lockey, 84, was found dead in his chair at Julian Hospital in Norwich on 24 August.
He had been admitted six months earlier with Alzheimer's and Parkinson's disease.
A spokeswoman for Norfolk and Suffolk NHS Foundation Trust said it would not comment on individual patient cases.
Mr Lockey, from Dereham, Norfolk, suffered injuries and lost almost three stone (19kg) in weight, his family claim.
They said they often found him sitting in the dark in soiled clothes, or in a "zombie state" on medication.
However, a Norfolk and Suffolk NHS Foundation Trust (NSFT) investigation in May concluded that there were no hospital records of Mr Lockey's alleged injuries.
But a surprise inspection by the Care Quality Commission in May, carried out following "concerns raised by a member of the public", found that some care records contained incorrect medical information and that staff did not always include safety information on recent falls by patients.
Norfolk Safeguarding Adults Board confirmed that a referral was made in September for a review into Mr Lockey's death, but that after consideration it "did not meet the criteria" where an adult had died or suffered from abuse or neglect.
An inquest into his death will take place in February, with a preliminary cause given as heart disease.
Mr Lockey, originally from Dumbartonshire, was signed by Liverpool FC in 1956 and moved to Norfolk in the 1980s.
His family allege that his health deteriorated because of a lack of care, and have called for an independent inquiry into both his death and the safety of current and future patients.
Mr Lockey's wife of 53 years, Margaret, said four official complaints were made to NSFT but said she received no official explanation for his injuries.
In one complaint, their daughter Tina Lockey wrote of "concerns about unexplained injuries, neglect and lack of transparency".
She told the BBC the family "complained and complained and never got anywhere".
Jane Sayer, director of nursing, quality and patient safety, said the trust could not discuss individual cases due to patient confidentiality, "particularly when they are the subject of an ongoing complaint or upcoming inquest".
"The trust has been in contact with the service user's family and we are happy to meet with them further, should they wish to discuss any concerns," she added.
In December last year the trust was fined £366,000 for health and safety failings after dementia patent Joan Darnell, 78, drowned in a bath at Julian Hospital in 2014.
The trust was placed in special measures by the Care Quality Commission (CQC) in February 2015, but was taken out of special measures in 2016.