Gorleston man filmed dragging puppy along pavement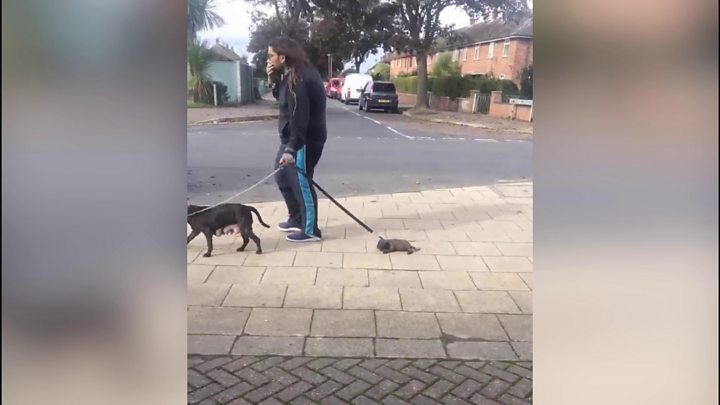 A man who was filmed dragging his four-week-old puppy along a pavement has been fined £300.
Robert Loombe was seen pulling the tiny Staffie-type puppy along on its belly in Gorleston, Norfolk, on Tuesday.
A woman who filmed the dog being dragged said that at one point it was "smacked up a kerb".
Loombe, 46, of New College Close in Gorleston, admitted causing unnecessary suffering to the animal at Norwich Magistrates' Court on Wednesday.
Jade Barker posted a video on Facebook of Loombe walking the puppy and two other dogs, and sent it to Norfolk Police.
In the footage the puppy can be seen on its belly, unable to walk as it is pulled along on its lead along Magdalen Way.
Miss Barker said: "I saw this man drag this poor defenceless puppy across a road smacked it up a kerb and continued to drag it."
Norfolk Police confirmed that officers were alerted to the incident by Miss Barker's video.
In court, Loombe admitted harming the puppy, called Fatty, which suffered grazing to its chin.
He was given a deprivation order in relation to the puppy, meaning he cannot have Fatty back.
But magistrates did not ban Loombe from owning animals in the future.
In total five dogs, including three puppies, which lived at Mr Loombe's address were seized.
The puppies were taken in by animal charity Broken Halo Rescue.
Kristy Williamson, the centre's owner, said she would "try to find a brilliant home for the puppies once they are ready".
Loombe also admitted public order offences and being in possession of cannabis, but no separate penalty was issued in court for these.