Edith Cavell: Appeal to find missing third act of opera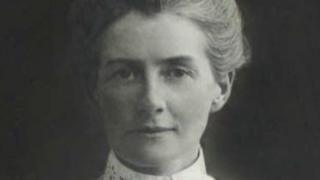 Libraries are being asked to check their shelves and archives in the hope of unearthing a 1920s musical score recounting the story of a war heroine.
The piece is the missing third act of an opera that recounts the story of nurse Edith Cavell, from Norfolk.
Miss Cavell is credited with helping 200 British soldiers escape occupied Belgium during World War One.
She was arrested for treason - and executed by a German firing squad in 1915.
The three-act opera was written by Maltese composer Paolino Vassallo (1856-1923) and performed in Malta in 1927.
'Needle in a haystack'
The Norfolk Record Office (NRO) already holds the first two acts in leather-bound manuscripts after it acquired them at auction in 1941.
Staff are appealing for help in finding the third act after a request from a student researching Vassallo's work in Malta.
Nick Miller, keeper of the Cavell memorabilia, described it as a "wide search for a needle in a haystack".
"We're asking older libraries, anyone with collections to have a look, it could be buried somewhere on a shelf," he said.
"It is an extraordinary document. The composer's handwriting is all over the first two acts in four colours of ink - so there's no reason the third act won't be the same."
---
The eldest child of a village parson, Edith Cavell was born in 1865 and grew up in Swardeston, Norfolk
She entered nursing at the age of 33, and worked across England before travelling to Brussels in 1907 to help run a new nursing school
During her care, Cavell helped 200 British soldiers escape into Holland
She was arrested by German police - and sentenced to death for treason
Miss Cavell was executed at dawn on 12 October, 1915. Her body was returned to Norfolk - and she is buried in the grounds of Norwich Cathedral
---
Mr Miller added: "We want people to know what a courageous and extraordinary woman she was.
"Her faith through her upbringing is the core of what motivated her."
Norfolk county archivist Gary Tuson said Edith Cavell's life story is not complete without the third act.
"It is the real emotional centrepiece of Cavell's life, charting her execution and death, the tragic end," he said.
"It may not even exist anymore. If we're not successful then it may be a good opportunity for someone to complete her story and write it."