Norwich City's Daniel Farke inspires Brundall school with Rocky IV quote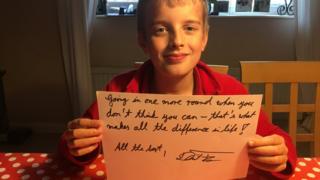 Norwich City manager Daniel Farke has handwritten a motivational quote for a school after he was approached by one of its pupils.
Finn Harper, 10, wrote to Farke after becoming sports captain at Brundall Primary School, Norfolk.
The Canaries manager replied with a quote from the film Rocky IV.
Finn said he was "amazed" to receive the response. His father Stuart Harper wrote a post about it on Twitter which was seen by thousands of people.
The quote reads: "Going in one more round when you don't think you can - that's what makes all the difference in life!"
Finn and his father got the quote framed to give to the school.
Finn said: "I thought it would be a good idea as I'd just been elected sport captain at school.
"I wrote to Norwich City and asked for an inspirational quote and a week later I got a reply. I was amazed."
Mr Harper added: "We were both a bit shocked when it arrived in the post.
"It's such a good quote really, and it's from one of my favourite films as well."
Mr Harper said his tweet had been seen by 17,500 people.