Mundesley Hospital closes after mental health trust withdraws patients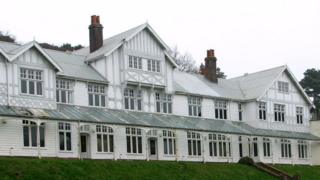 A private hospital rated as inadequate has closed down after a mental health trust withdrew all its patients, citing safety concerns.
Norfolk and Suffolk NHS Foundation Trust (NSFT) said it was not confident that safety improvements at the 27-bed Mundesley Hospital in Norfolk were taking place quickly enough.
The hospital said the decision to close was made with "deep sadness".
It said it hoped a new owner could be found.
The hospital, run by Hope Community Care, was placed in special measures by the Care Quality Commission (CQC) in December 2016.
But a further inspection report, published last month, rated the hospital inadequate again.
In a statement, NSFT - itself rated inadequate by the CQC - said: "We have been closely monitoring the situation at Mundesley since its recent CQC report was published, to ensure the continued safety of our patients. But we are not assured that remedial safety actions are being put in place quickly enough."
It said it would now use other local providers when its own beds were full.
In a statement, the hospital said its primary concern was for patients, carers and their families, as well as staff.
"The Mundesley board are actively seeking a resolution to this issue, amongst which may be an option to seek a buyer for the hospital," it said.
"The board is hopeful that a new owner would be able to work with the commissioners to recommence the referral of patients to the hospital."
A spokesman for the Campaign to Save Mental Health Services in Norfolk and Suffolk said it had raised serious concerns about the hospital.
"Surely NSFT and local commissioners should have noticed that care was inadequate?" he said.
He said patients now faced the prospect of being sent hundreds of miles away from friends, family and care professionals.