Great Yarmouth's Marina seafront leisure centre to be demolished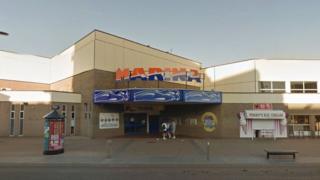 A town's leisure centre which has stood by the seafront for more than three decades is set to be demolished.
Great Yarmouth Borough Council has voted to move forward with plans to replace the town's Marina Centre and build a new £26m leisure centre.
The site will now undergo a "feasibility study" to look at how it can be developed.
Councillor Carl Smith said: "It's a major investment for Great Yarmouth and an iconic landmark on the seafront."
Some businesses had voiced their concerns that their business might be moved when the Marina is demolished.
Mr Smith said that businesses in the area would be consulted before a report, which will cost £120,000 and includes the creation of architectural drawings, will be passed to council members to decide how to go forward.
The new leisure centre is set include a new fitness centre and spa.