Norfolk Police paid out £269k to Dr Hugh O'Neill's victims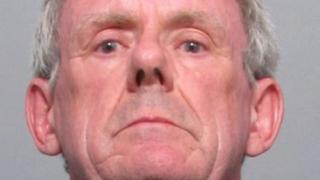 A police force has paid out £269,500 after officers were sexually assaulted by a force medic.
Hugh Blase O'Neill, 63, worked for Norfolk Police between 1991 and 2003 when he abused mostly new recruits during medical examinations.
He was already in jail for child sex offences when he was sentenced in 2016 for assaulting 13 female officers.
As reported by the Eastern Daily Press, Norfolk Police said the figure was in settlements and legal costs.
It declined to clarify how many payouts were made.
O'Neill was serving 12 years for raping two children when he pleaded guilty to 13 offences and was sentenced to a further three years in April 2016.
It emerged in court that "little was done" about allegations made by officers in 1993.
"It speaks volumes about his attitude that... he carried on abusing women for another nine years," Kate Davey, prosecuting, said at the time.
An independent inquiry by Essex Police, published earlier this year, found failings in the handling of previous investigations in 1993 and 2002-3.
On both occasions no charges were brought against O'Neill.
In total, 33 officers had made allegations against him.