Final piece of René Magritte masterpiece 'jigsaw' found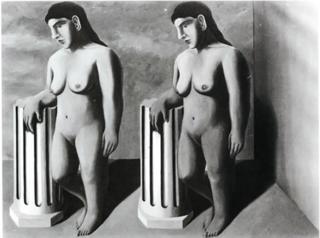 Art historians have identified the fourth and final section of a lost masterpiece after an 80-year search.
The Belgian surrealist René Magritte cut La Pose Enchantée into quarters in the late 1920s, and painted over the four canvases.
Two pieces were discovered in Stockholm and New York, and the third at Norwich Castle Museum last year.
The last quarter - found in Brussels - has been described as "the end of a great adventure".
Read more Norfolk stories here
La Pose Enchantée, which depicts two identical nude women, was exhibited in 1927 but later returned to Magritte before it vanished in 1932.
Only a black and white photo from the exhibition catalogue proved its existence. The artist, who died in 1967, never mentioned its fate.
The first quarter was found in 2013 at New York's Museum of Modern Art behind a painting called The Portrait, from 1935.
The second was revealed behind Magritte's The Red Model, held in Stockholm's Moderna Museet.
The Human Condition, which hangs in Norwich Castle Museum, contains the third section of the painting.
Norwich Castle's historic art curator Giorgia Bottinelli said the find of the fourth and final piece in Brussels was "absolutely astounding".
"After all that has happened, little by little the puzzle has been completed," she said.
Experts at the University of Liege used imaging technology to find the last piece, hidden under God is Not a Saint, in the Magritte Museum in Brussels.
"When we realised what it was, we just looked at each other in shock," said physics professor Dr David Strivay.
Experts say a penniless Magritte cut up the painting because he could make more money from four than one during the post-crash 1930s.
Samir Al-Haddad, of the Royal Museums of Fine Arts of Belgium, said the discovery was surprising given the global reach of Magritte's work.
"It is the end of a great adventure," he added.
Mr Al-Haddad said talks were under way with the other institutions to bring all four pieces together for public view.