Johanna Young 1992 murder: Key to case 'in local area'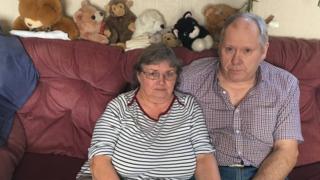 Police investigating the murder of a teenager 25 years ago remain convinced someone in the area where she died holds the key to the case.
Johanna Young was 14 when she went missing from her family home in Watton, Norfolk, on 23 December 1992.
Her partially-clothed body was found covered in scratches and face down in water on Boxing Day.
Investigating officer Marie James said: "I am convinced the answer lies within the community of Watton."
"I'm quite sure that there is someone out there, whether they used to live in Watton or have since moved on, that has information that may unlock this case," said Det Insp James, of Norfolk Police.
A post-mortem examination revealed Johanna - whose body was found close to Griston Road in Watton - died from drowning and a fractured skull.
A fresh appeal in 2014 saw two people arrested and bailed but police said there was "insufficient information to prove those individuals' involvement".
Johanna had left home, where she lived with her parents Carol and Robert and siblings Daniel and Emma, at 19:30 GMT on 23 December.
When she did not return home that night, her parents assumed she was with friends or her boyfriend Ryan Firman.
'Get closure'
But, she failed to turn up for her paper round on Christmas Eve and the police were called.
After her body was recovered, investigations targeted local men and although three people were arrested and questioned, no charges were brought.
Mr Young, 64, said they would "finally get closure" if the case was solved.
"You live in hope that someday something will happen," added Mrs Young, 61.
Johanna's body was found after a dog walker came across one of her trainers in undergrowth near the body.
There was no evidence of a sexual motive, police said.
Soon after Johanna was found dead, a cryptic letter was sent to the Eastern Daily Press, featuring a drawing of a girl, a youth, a motorcycle, the date and naming Griston Road.
It is believed a "young man" with a motorcycle was seen in the area on the night she went missing, police said.