Morrisons Wymondham attack: Victim died after kick to head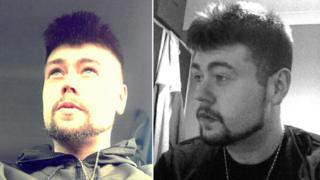 A man died from a "catastrophic" brain injury after being beaten and kicked in the head in full view of shoppers at a supermarket, a court has heard.
Lee Monk, 19, and his uncle John Monk, 44, both of Wymondham, Norfolk, deny murdering Nick Rogers at a Morrisons store in the town on 17 July.
Mr Rogers, 26, died in hospital a day after the attack, which was filmed on CCTV, Norwich Crown Court heard.
The court heard there had been a long-standing feud over money.
Prosecutor Andrew Jackson said Mr Rogers went into cardiac arrest after being kicked in the head by Lee Monk.
'Raining down punches'
Video of the attack near the self-service checkouts was shown to the court in which Mr Rogers is seen backing away from punches.
Mr Jackson said the kick to the victim's head "was so powerful, it caused a massive and catastrophic brain injury".
Upon arrest, Lee Monk told police it was self-defence and he aimed the kick at Mr Rogers' chest, his uncle described the incident as "just a punch-up".
The Monks and Mr Rogers had been involved in a 12-month feud over money and jewellery, the court heard.
Both men also turned on Mr Rogers' best friend Leo Wardrop "raining down punches" but he escaped without serious injury, the jury was told.
The defendants also face a second charge of assault causing actual bodily harm.
Mr Rogers, who was also known as Nick Singh, and his friend had gone to the supermarket to buy some bottled water before going on a run, Mr Jackson said.
The trial continues.