Walcott dog breeder 'flees to Ireland' to evade court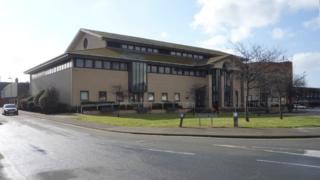 A dog breeder accused of breaching court orders has seemingly evaded the justice system by fleeing to the Republic of Ireland.
Amanda Adams, formerly of Lynton Road, Walcott, Norfolk, is accused of keeping Irish wolfhounds despite being given two previous banning orders.
The RSPCA withdrew the charge when she failed to turn up at Great Yarmouth Magistrates' Court for the third time.
It said she was "incredibly clever", capable of "concocting cover stories".
RSPCA inspector Ben Kirby, the case officer, described Ms Adams as "manipulative" and said he personally did "not believe a word she says".
He said: "We have prosecuted her twice before but unfortunately this time she has fled to part of the world where our jurisdiction is non-enforceable."
"I have no doubt at all that she will be back and should she come back and break UK laws again, I will be on her toes."
'Dramatic step'
The court heard Ms Adams was found to be breeding Irish wolfhounds in conditions RSPCA officers were not happy with and she was banned from keeping animals for five years.
She breached that court order and was given a six-week suspended prison sentence plus a 10-year ban which she breached again.
The RSPCA said it has not been able to locate Ms Adams in Ireland.
It said the cases against her which have previously been heard in the UK do not apply in the Republic of Ireland.
The animal charity's prosecutor Jonathan Eales said most people "don't take the dramatic step" of moving abroad to avoid prosecution.
"I suspect the court would've dealt with her severely and to avoid that, she has left the country," he said.
Mr Eales said even though the case has been withdrawn, proceedings could be reactivated if Ms Adams were to return to the country.