Witness and victim accused of starting fatal fight in Morrisons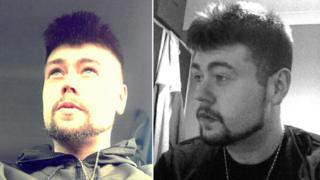 The friend of a man who died after being attacked in a supermarket told a court his attackers were "animals".
Nick Rogers, 26, from Wymondham, suffered a fatal cardiac arrest after being punched and kicked in the head by two men at the town's Morrisons store.
Leo Wardrop, 27, told Norwich Crown Court he and his friend were set upon by John Monk, 44, and his 20-year-old nephew Lee Monk on 17 July.
Both of the defendants deny murder and actual bodily harm.
The court was told Mr Rogers had been involved in a year-long feud with Lee Monk over money and jewellery.
An often tearful Mr Wardrop gave his evidence via video link.
He swore and described the defendants as "animals" after the court was shown CCTV of Mr Rogers being attacked in full view of shoppers.
But defence barrister, Jude Durr, said far from being victims, Mr Rogers and Mr Wardrop had gone into the supermarket seeking the defendants after spotting their vehicles in the car park.
Mr Durr read out a list of the witness's previous convictions for violence and threatening behaviour.
He suggested the friends went into the store thinking Lee Monk was on his own, "to dish out some justice", which Mr Wardrop denied.
The witness told the court when John Monk appeared in the aisle Lee Monk threw a punch at Mr Rogers, with John Monk joining in.
Mr Wardrop said he tried to protect his friend but he was punched several times by John Monk.
He described "being put to the floor" before the men left the store. When he got up he went over to where he had last seen his friend.
"I tried to wake him up off the floor, but he was dead," he said.
The trial is continuing.