'Shaking type injury' caused baby death pathologist tells Norfolk court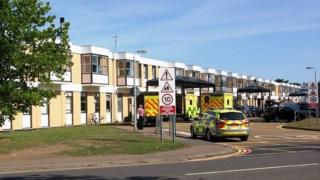 A senior pathologist has told a court a baby's fatal injuries were "strongly associated" with "a shaking type injury".
Six-month-old Milana Guzas, who was born prematurely, died after being taken to hospital by her parents after falling unconscious in February 2016.
Her father, Arunas Guzas, 42, of King's Lynn, who was alone with her beforehand, denies manslaughter.
The baby was found to have suffered bleeding to the brain, eyes, and spine.
Dr Nat Cary told Norwich Crown Court he carried out a top-to-toe post-mortem of Milana after she died.
He concluded bleeding on the brain, eyes and spinal cord were the cause of her death, adding they were all "strongly associated" with "a shaking type injury".
"The cause of the (baby's) original collapse is one of head injury and that head injury is of a shaking impact type" Dr Cary told the court.
He went on to add this was "what can happen when you get a shake followed by an impact with soft furnishings."
Dr Cary said the damage to the brain membranes were more in line with being shaken rather than falling.
He also confirmed there was no evidence of underlying organ abnormality, disease or blood conditions.
His conclusions were also based on several reports from paediatricians and medical experts who carried out detailed examinations of Milana's bones, eyes, and brain.
Milana also suffered two fractures to an arm, one of which Dr Cary said could have been caused by twisting or if the arms were "flailing about" through shaking.
The trial is continuing.