Baby death accused father 'blames himself', court told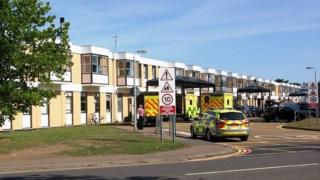 A father accused of causing his baby daughter's death by shaking her said he was asleep when he awoke to find her crying "excessively" on the floor.
Six-month-old Milana Guzas, who was born prematurely, died five days after being taken to hospital unconscious and with rigid limbs.
Arunas Guzas, 42, of Greenland Avenue, King's Lynn, denies manslaughter.
Wiping away tears, he told Norwich Crown Court he had dozed off with Milana on his chest while alone.
Milana was face down on the floor, Mr Guzas said, so he picked her up and began rocking her as she was crying "consistently and loudly".
'Getting fainter'
"Her eyes were so wide open. I don't know how to explain it but she looked like she was about to explode," he said via a Lithuanian interpreter.
He said he had rocked her before splashing her with warm water in the bath to try and calm her.
It was then he noticed her neck and right arm were "cramping" and her breathing was "getting fainter".
He told the court he tried phoning her mother Irena repeatedly while trying to wake Milana at the same time.
The factory shift worker, who said he had not slept properly for two days before the incident, said he had not called the emergency services as he was panicking.
On Tuesday, Home Office pathologist Dr Nat Cary said Milana had died as a result of serious injuries from being shaken.
Mr Guzas admitted to the jury that while at the hospital he had told police he had shaken Milana "a little bit" while trying to calm her down.
He was asked by his defence if he told a staff nurse that he was to blame for Milana's condition and agreed he had.
Asked if he still felt Milana's injuries were his fault, he told the court: "I will always feel that way. It all happened in my care."
The trial continues.