Cromer Christmas trees made from sausage rolls and traffic cones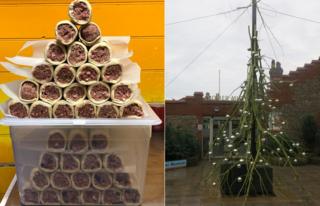 Traffic cones, sausage rolls and lobster pots: Christmas trees in one Norfolk seaside town are a little bit different.
In recent years, Cromer has gained a reputation for putting up alternative trees.
This year's efforts include a giant mistletoe-inspired tree outside the local museum and a traffic cone tree in the Cottage pub.
Bar worker Amanda West said: "We're a bit mad around here."
Previous years have included trees made from stacks of crab and lobster pots and a huge three-dimensional advent calendar.
The traffic cones at the Cottage in Louden Road are usually used to prevent unwanted parking during the town's festival.
But this year, staff have given them a festive makeover.
Landlord Mark Pearce piled them up "as a joke" before bar worker Amanda West decorated them.
Mrs West said: "We're a bit mad around here. About five years ago, the Cromer lighting committee made a giant tree out of lobster pots, and this year we've got a big mistletoe tree at one end of the churchyard."
Mrs West said the traffic cone tree had been very well-received and given people "quite a few giggles".
Meanwhile, at the Rock Shop Bistro, staff made a short-lived Christmas tree out of a stack of freshly made sausage rolls, which proved so popular it may be reappearing in the near future.