Father Arunas Guzas guilty of daughter's 'shaken baby' death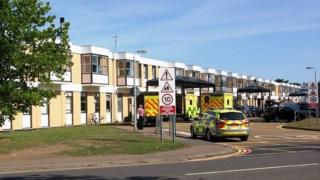 A man has been found guilty of killing his six-month-old daughter, who suffered "catastrophic" shaking injuries.
Arunas Guzas, 42, from King's Lynn, was convicted of the manslaughter of Milana after a trial at Norwich Crown Court.
Jurors heard she died five days after being taken to hospital unconscious and with stiff limbs in February 2016.
Guzas admitted to the court that while she was in hospital he told police he had shaken her "a little bit".
During the two-week trial, the factory worker cried as he told how he had dozed off with his daughter on his chest and woke up to find her crying on the floor.
Speaking through a Lithuanian interpreter, Guzas said he "blamed himself for her death" because he was looking after her while his wife was out.
'No satisfactory explanation'
Guzas, of Greenland Avenue, had not slept properly for two days when his wife returned home just after 20:00 GMT to find him angry, the court heard.
He gave three differing accounts of what had happened to hospital staff and police, jurors were told.
Home Office pathologist Dr Nat Cary said Milana - who was born 10 weeks early - died as a result of serious injuries from being shaken.
Prosecutor Karim Khalil QC told the jury she had "catastrophic head injuries for which there was no satisfactory explanation".
She had also sustained a fractured arm up to two weeks previously.
Judge Mr Justice Neil Garnham said Guzas would be sentenced on Wednesday.