Greater Anglia staff on strike over driver-only train plans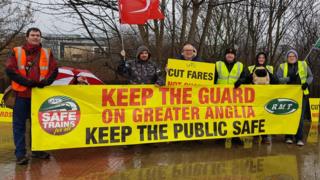 Guards employed by Greater Anglia are taking part in a 24-hour strike over an ongoing row about driver-only trains.
The Rail, Maritime and Transport union (RMT) said members were concerned about plans to allow drivers to operate train doors, and potential job losses.
Mick Cash, of the RMT, said members were "united again in their strike action for rail safety".
Greater Anglia said its services had not been affected by the strike and denied it planned to cut guard jobs.
Managers trained in conductor duties were replacing guards on strike days, a spokeswoman for Greater Anglia said.
It is the latest in a series of strikes by RMT members across the country. More are planned for January.