Fire at Fakenham North Norfolk District Council offices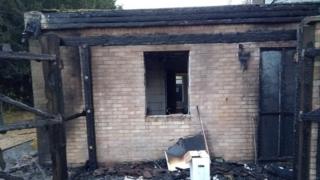 A fire at council offices in Norfolk may have been started deliberately, police have said.
The blaze at the North Norfolk District offices on Oak Street, Fakenham, started at about 07:45 GMT.
No injuries were reported. However, the building will remain closed until next week.
Officers from Norfolk Constabulary said they were treating the fire, which started in an external bin store, as arson.
Anyone with information is asked to contact police in Fakenham.
Responding to what happened on Twitter, North Norfolk District Council said its Department of Work and Pensions services "would not be available" while it continued to assess the damage caused.