Missing Sophie Smith: 'There is still hope' says father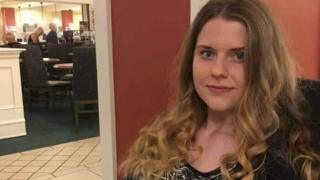 The father of a student who disappeared on Boxing Day has said he has not given up hope that she will be found, despite police scaling back their search.
Sophie Smith, 21, walked out of her house in Gorleston, Norfolk, wearing shorts and a vest top at 03:00 GMT.
Police said the most likely scenario was that she had gone in the sea and it had "exhausted" all lines of inquiry.
However, Ms Smith's father Martin Knowles said there was "still hope" and urged her to return home.
The University of East Anglia student was spotted on CCTV for a few seconds going towards the seafront shortly after leaving her home in Avondale Road, close to the beach.
"I will say it as I've said before Sophie… wherever you may be please just come home," said Mr Knowles.
"Your mum loves you, I love you, your sister, your auntie, all your friends at UEA and in Gorleston.
"Just come home - there's nothing to be worried about."
Ms Smith was being treated for severe anxiety and depression.
Mr Knowles, who is separated from Ms Smith's mother, said: "I have an open mind and as a Christian... the only person who knows what has happened to Sophie is God.
"I have faith in God that He will give me closure on this one way or another."
The HM Coastguard has estimated it has scoured 34 miles (54km) of coastline at points from Happisburgh, Norfolk, to Benacre, Suffolk.
Volunteers have said they will continue to look for her.
Organisers of the Find Sophie Smith Facebook group, which now has nearly 30,500 members, said searches continued on Tuesday along the coast including at Breydon Water.
However, they warned helpers to stay away from any dangerous spots in light of the bad weather.