Man accused of 'marauding' sex attack spree in Norwich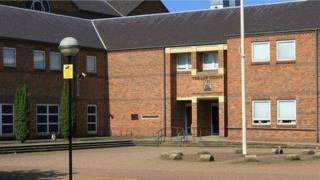 A "marauding predator" repeatedly raped a woman during a crime spree in Norwich in which he sexually assaulted three other victims, a court has heard.
Jake Killick, 23, "sought to sexually assault and rape a number of different women as they were out in this city", prosecutor Chris Paxton said.
Norwich Crown Court heard the attacks, on 30 March 2017, followed a rape at a woman's house in Thetford in January.
Mr Killick, who denies 16 charges, had recently been freed from prison.
The jury was told that on leaving jail on 5 January, having served time for a previous attack, the defendant travelled to Thetford in Norfolk, where he raped the woman.
She gave police a statement identifying Mr Killick on 28 March after finding she was pregnant, Mr Paxton said.
Two days later, Mr Killick carried out the other attacks, the court was told.
"It was, we say, a crime spree of a marauding sexual predator," Mr Paxton said.
The Norwich attacks began at 04:20 BST on Riverside Road, when the accused was said to have tried to drag a woman into a side street, sexually assaulting her in the process.
He then went into the city centre and, just after 06:00, repeatedly raped an 18-year-old woman after grabbing her near Chapelfield Gardens, the jury was told.
The defendant is said to have raped her first in an alleyway, then outside a block of flats in Ten Bell Court, threatening to kill her several times during the ordeal.
The prosecution said Mr Killick went on to assault a 16-year-old student in the St Stephens Road underpass but she fought back, taking pictures of him on her phone before escaping.
He then allegedly robbed three men to get money for a train ticket but was arrested at Norwich railway station.
Mr Killick, of no fixed address, faces 16 counts including rape, false imprisonment and robbery.
The trial continues.