North Walsham student: Mourners remember 'brightest star'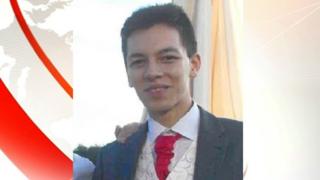 Hundreds of mourners have attended the funeral of a student who was found dead after going missing two weeks before Christmas.
Ian Tang, 20, of North Walsham, Norfolk, disappeared while walking home from Club KA in the town in the early hours of 10 December.
More than 500 people attended the funeral at St Nicholas Church, North Walsham.
His sister Amy said her brother "will be the brightest star in the sky".
She told the congregation: "Everyone we have spoken to has remembered Ian for his fantastic and permanent smile and I am proud to say that he genuinely was that care-free and positive."
The Rev Paul Cubitt, said Mr Tang, who was studying at City College Norwich, would never be forgotten by his family or the town.
He said his tragic passing had affected many who had not even known him, and added: "That so many people turned out to hunt for him says much about the town and the community."
After the service the family left for a private committal at Cromer Crematorium.
Mr Tang's body was found on 12 December. His death was not treated as suspicious.