East counties' 'overlooked places' in new art project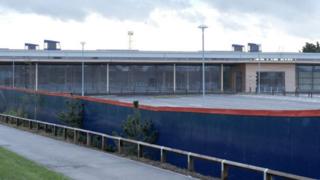 Four empty plinths at a roundabout, a redundant Pontins and an abandoned Tescos are just some of the "overlooked places" nominated for an art project.
The East Contemporary Visual Arts Network (ECVAN) received more than 270 nominations after asking the public to put forward unexplored places as locations for art.
Artists are now being asked to submit ideas inspired by the sites.
The New Geographies project will see 10 locations chosen for new artworks.
It is hoped the Arts Council England-funded project will give "an opportunity to encounter excellent art in unexpected places" delivered by the end of 2019.
'A new map'
Last year, ECVAN asked for "overlooked or forgotten places" in Bedfordshire, Cambridgeshire, Essex, Hertfordshire, Norfolk and Suffolk.
Suggestions included the petrified forest of Mundon in Essex, a roundabout on the A47 in King's Lynn, the concrete pyramid off Great Yarmouth's coast, an abandoned Tesco site in Chatteris, Cambridgeshire, and the former Pontins holiday park in Hemsby, Norfolk.
The Cardington hangars in Bedfordshire, an underpass in Broadhall Way, Stevenage, and the grain silos in Lowestoft were also nominated.
ECVAN wants all artists - whether amateur or professional - to submit ideas for work based on "reflections and histories" of the locations, which will then be sited there.
Project manager Matt Nightingale said: "The original idea was to draw a map of the region based on places that are not well-known, rather than nationally known ones - undiscovered places which also have amazing stories," he said.
"It's meant to be site-responsive, so artists can find a site, maybe visit it and then respond to it.
"We are open to a wide range of proposals, from sculpture, to sound, to performance-based projects."
The closing date for ideas is 28 January.