East of England ambulance delays: Medical director to leave post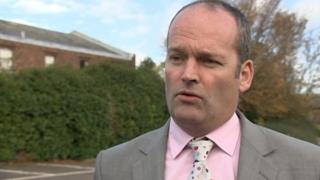 The medical director of an ambulance trust is leaving, following revelations 20 people had died after delays.
On Wednesday, MP Clive Lewis told the Commons that the East of England Ambulance Service failed to move into its highest state of emergency over 12 days in December.
During that period 20 people died after ambulance delays.
The ambulance trust confirmed Mark Patten was leaving, but said the decision had been made some time ago.
Mr Patten, who served as medical director at the Luton and Dunstable Hospital, joined the board of the ambulance trust in July 2016.
He is believed to be returning to full-time clinical care.
The ambulance trust said that Mr Patten gave formal notice to the board of his decision in November.
Mr Patten said: "It is a personal decision to return to full-time clinical work at the Luton and Dunstable Hospital and I wish all at the trust the very best in the future."
Robert Morton, chief executive of the trust, said: "With his fellow leaders, he has helped place ever-more emphasis on the patient journey, and how we treat the people we respond to with respect and compassion.
"We thank him for not only his leadership, but for also responding to patients regularly and making a massive contribution to patient care."
Labour MP for Norwich South Mr Lewis told the Commons senior managers wanted to move East of England Ambulance Service Trust to so-called REAP 4 on 19 December.
"However, that decision was not taken until 31 December, some 12 days later, and even then aid was not requested by senior management," he said.
"I've been informed during this period that 20 people died in incidents where ambulances arrived late."