Queen visits Sandringham Women's Institute despite power cut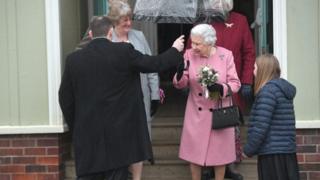 The Queen has made her annual visit to her local Women's Institute, despite power cuts leaving the village hall venue without heating and light.
Each year the Queen visits WI members at West Newton as part of her winter stay on her Sandringham estate in Norfolk.
In spite of the problems caused by gusts of up to 83mph (134km/h), she decided to go ahead with the visit.
The Queen was greeted by Yvonne Browne, vice-president of the Sandringham WI.
The Queen also met BBC Look East presenter Susie Fowler-Watt, who was this year's guest speaker.
Fowler-Watt said ahead of the meeting: "I was very surprised, first of all, to be invited and just incredibly honoured and excited.
"They've had some incredible speakers before and I feel honoured to be one of them."
She said her daughter Lola, 12, had been excited since she found out and was coming to hand a posy to the Queen.
The Queen joined the Sandringham branch of the WI in 1943 when she was still Princess Elizabeth.