Man dies returning to hospital after earlier discharge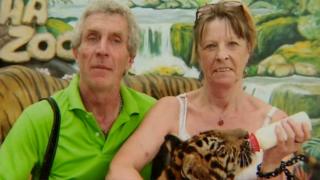 A 52-year-old man died in an ambulance on his way to a hospital for a second time in 24 hours, it has emerged.
Brian Harvard, who lived near Holt in Norfolk, was taken ill two days before he was due to fly to Thailand.
He suffered chest pains and had to wait in an ambulance queue for six hours at A&E but after examination was sent home where he collapsed in agony.
He died while returning to the Norfolk and Norwich University Hospital, which said it was investigating.
An ambulance arrived eight minutes after Mr Harvard's partner Gwendoline Day dialled 999 when he first collapsed.
However, A&E staff did not examine him for six hours because of a queue of ambulances, the hospital confirmed.
'Collapsed again'
North Norfolk MP Norman Lamb and Norwich South MP Clive Lewis had both told Parliament about ambulance service and hospital failures of the health trust, over Christmas and New Year.
Staff told Ms Day they were waiting for blood test and chest X-ray results for Mr Harvard so she returned home.
Later, Mr Harvard called to say he had been discharged so Ms Day took him back home.
"[But] he collapsed again and my son called 999," Ms Day said.
A paramedic arrived within 12 minutes but the family had to wait 90 minutes for an ambulance after two were diverted away to higher priority cases.
"I was told later he had died and they had fought for an hour to save him on the road," Ms Day said.
'Internal investigation'
Mr Harvard died on 9 January, a day after he first collapsed.
The ambulance trust confirmed Ms Day's story and offered its condolences.
A spokesman said: "The trust would welcome the opportunity to look into this further.
"An internal investigation has commenced and we will keep Mr Harvard's family fully informed."