Uncovered Sir Alfred Munnings works to be displayed in Norwich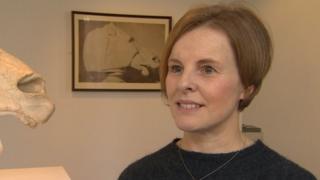 Rediscovered drawings created by Sir Alfred Munnings during his student days are to go on display for the first time.
The drawings were uncovered in the archives of the Norwich School of Art, where the Suffolk-born artist took evening classes.
They will be exhibited to help raise funds to preserve them.
Curator Dr Caroline Fisher said it was an "amazing collection".
The exhibition opens at the Norwich University of the Arts (NUA) on Wednesday.
Dr Fisher said the 14 pictures were drawn in about 1898-99 and highlight the artist's emerging skills in mastering the drawing of human and animal forms.
She said the collection not only needed conservation but also needed to be better known.
"They are stunning drawings and reflect an early period of Munnings' career, before he really made it as an artist," she added.
Dr Fisher said Sir Alfred, who was born at Mendham, would attend evening classes at Norwich School of Art after working a full day at Page Brothers, the printers, as a lithographer and designer.
He was the president of the Royal Academy of Arts from 1944 to 1949.
His former home in Dedham, Essex was turned into a museum for his work after his death in 1959.
NUA said once the drawings have been conserved they will be remounted, framed and shown as part of a major exhibition of the artist's work in 2019 to mark the 60th anniversary of Sir Alfred's death.