Attleborough's Breckland Lodge to be rebuilt after blaze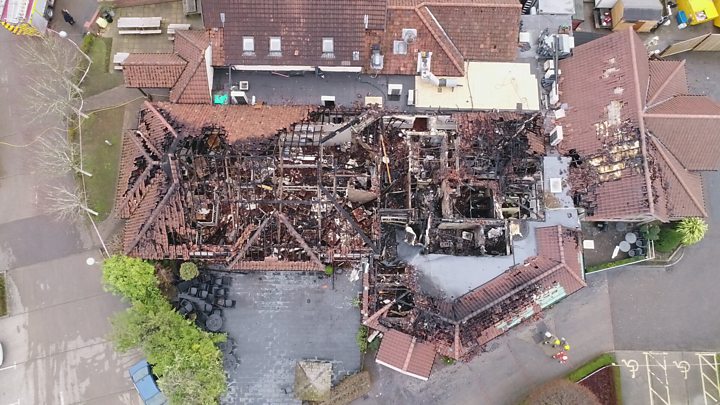 A "landmark" hotel and restaurant gutted by fire will be rebuilt, vowed one of its directors.
More than 70 firefighters were called to Breckland Lodge, next to the A11 at Attleborough, on Tuesday - with plumes of smoke seen for miles.
Firefighters finally left at 01:00 GMT on Wednesday after 16 hours at the scene.
Co-director and manager Colin Kilby said: "Let us be thankful no-one was hurt - the building can be rebuilt."
Mr Kilby, who has worked at Breckland Lodge for 35 years, was there when the fire ravaged the coffee lounge and restaurant, and said he was shocked by how quickly it took hold.
"It was heart-breaking to see it go up," he said.
"We are now having lots of meetings to see where we go from here.
"I was humbled by the response from people yesterday - it's a landmark for lots of people and I would like to thank them all immensely for their support."
The site of Breckland Lodge consists of a 33-room hotel, the Stag pub, restaurant and coffee lounge in separate buildings, which range from 100 to five years old.
The ninety people who work at the lodge will keep their jobs, it has been confirmed.
"All their futures are 100% secure and we will continue to pay them," said Mr Kilby.
"They are our future and they were brilliant yesterday."
Guests with bookings for the hotel and restaurant were in the process of being contacted, as this data was off-site.
Although the hotel building mainly escaped unscathed, Mr Kilby said any plans for the site's reopening would not be known until next week.
Norfolk Fire and Rescue Service said the cause of the fire was not yet known and an investigation was under way.