Norfolk playground row: 'Common sense' compromise reached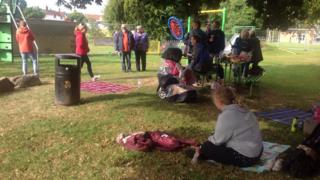 A long-running row over plans to relocate a children's playground has seen "common sense prevail" according to those who opposed the idea.
Wymondham Town Council in Norfolk wanted to move the play area after anti-social behaviour and noise complaints from residents.
Town mayor Robert Savage said he was pleased a compromise had been reached.
In 2016, protesters held a four day sit-in, blocking the removal of play equipment on King's Head Meadow.
In a statement, the King's Head Meadow Playscape Group said a deal had been struck with the council and local residents which will see the playground remain.
Some play equipment will be moved to new positions and a 8ft (2.5m) high fence will be installed to protect residents' properties.
Sharon Hastings, from the King's Head Meadow Playscape Group, said: "We are pleased to have reached a compromise with common sense prevailing at last.
"A fence was suggested early on in this dispute and it is staggering that it has taken so long to arrive back at that as a cost-effective solution."
Mr Savage said the changes were subject to planning permission and it would be "two to three months at the earliest" before they could be made.
The play area was installed in 2014 at a cost of £75,000, according to the King's Head Meadow Playscape Group, which claimed moving it would have cost the council £60,000.
The dispute led to Norfolk County Council offering mediation services in 2016 to bring about an "amicable solution" between all parties.
The BBC has asked Wymondham Town Council to confirm the figures.