East of England Ambulance delay discrepancies 'worrying'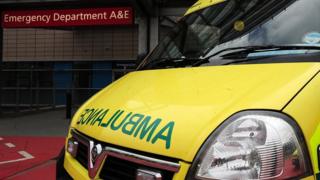 Discrepancies in ambulance handover delay figures have been labelled as "worrying" by an MP.
Norfolk and Norwich Hospital reported 36 ambulance handover delays of more than 30 minutes in the week ending Christmas Eve.
But the East of England Ambulance Service (EEAS) said there were 445 over the same period.
Clive Lewis, Labour MP for Norwich South, said "we need to know why" there is such a "huge discrepancy".
The EEAS Director of Service Delivery Kevin Brown said the service "did not recognise the data" released by the hospital.
He added: "Our crews and their patients have experienced extensive handover delays in Norfolk over the winter period, particularly at the Norfolk and Norwich University Hospital.
"Our data shows there were handover delays at [the hospital] every day in January."
The Norfolk and Norwich University Hospital said it received more ambulance arrivals than any other hospital in the East of England, up to 180 ambulances per day, an average of one every eight minutes.
In a statement it said: "The hospital provides accurate data to the reporting system through a number of routes. If we are not satisfied that the data is accurate for any reason we would submit a 'null return' until assurance is gained that the data is correct."
The ambulance service is supposed to hand over patients to hospitals within 15 minutes.
Hospitals have a legal duty to record data on hospital handover delays longer than 30 and 60 minutes.
The data acts as a 'red flag' for how much pressure hospitals were under over the Christmas and New Year period.