Norwich cherry picker workers rescued after sky-high breakdown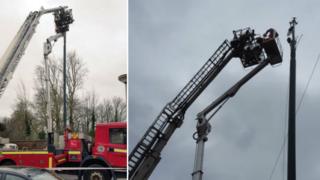 Two workers were left stranded at the top of a telephone pole when the cherry picker they were in broke down.
The communications engineers got stuck about 20 metres (65ft) from the ground when their equipment malfunctioned in Hobart Lane in Norwich on Tuesday.
Firefighters had to use their own version of a cherry picker - an aerial ladder platform - to rescue them.
Both of the uninjured workers were returned safely to terra firma by Norfolk Fire and Rescue crews.