Norfolk potholes: County Council compensation for drivers doubles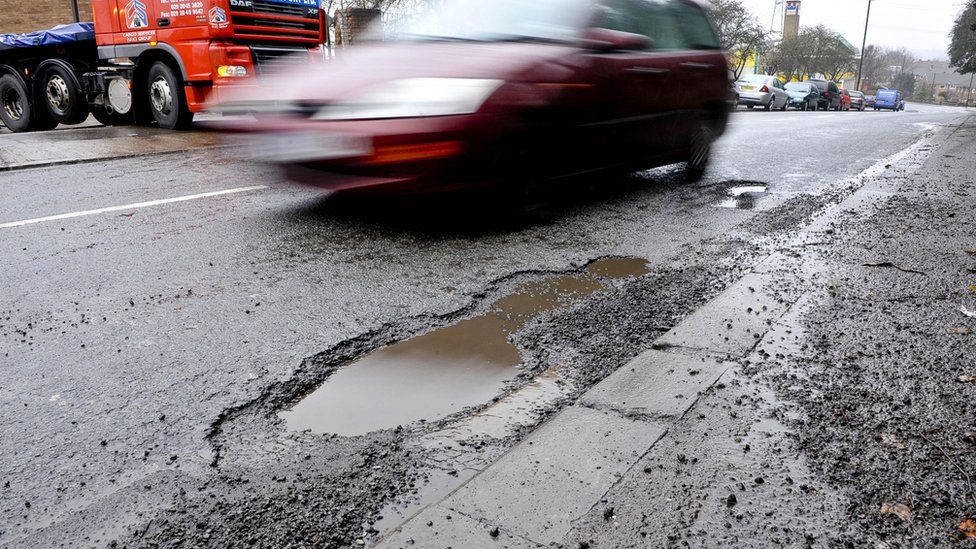 Figures show the number of people getting compensation for damage caused to their cars by potholes has more than doubled in Norfolk in a year.
A Freedom of Information Act request by BBC Radio Norfolk found that 103 people made successful claims to Norfolk County Council last year.
That compares to an average of just over 40 in previous years.
The council said the amount it paid out in 2016-17 was £32,834, compared to £12,139 in 2013-14.
Una Morris, of Beetley near Dereham, said potholes on the road outside her house have put people off driving there.
She said the postman would not come down the street.
"The postman stops at the top of the lane. I know three people who have had their suspension damaged," she said.
A Norfolk County Council spokesman said the authority spent more than £50m a year maintaining and improving 6,000 miles of road in the county.
On the issue of the Beetley pot holes, the council added: "This particular lane is not like from the majority of other roads in the county in that it is a 'soft road', which means it does not have an asphalt surface and the standard the surface has to be repaired to is very different.
"We understand and sympathise with residents about the issues. However, unfortunately, we have no funding to carry out any significant improvements but we have carried out repairs on this road and will continue to do so."
Related Internet Links
The BBC is not responsible for the content of external sites.