East Harling murder: 'Voices' told ex-soldier to kill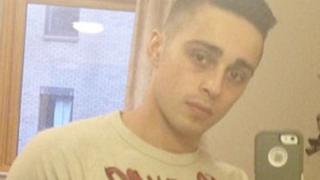 A former soldier with a "grudge against dog walkers" murdered a complete stranger after voices in his head told him to kill someone, a court was told.
Alexander Palmer, 24, is accused of attacking Peter Wrighton, 83, with a knife in woodland near East Harling, Norfolk, last August.
The accused admits being in the area at the time of the attack, but denies killing Mr Wrighton.
His body was found, with wounds to the neck and throat, by walkers.
The jury was told Norfolk police were initially unaware of Mr Palmer and concluded the victim had been attacked and killed by some sort of animal, due to his throat injuries.
But a psychologist who had treated Mr Palmer at RAF Marham read press reports of the case.
She contacted the force telling them she thought he could be responsible for the death.
Prosecutor Stephen Spence, at Nottingham Crown Court, said Mr Palmer told medical professionals a voice in his head called "Little Alex" instructed him to harm people or kill them.
Mr Palmer was injured as a victim of an assault while serving in the Army, the prosecution said. He served in the Army until November 2015.
The incident appeared to trigger problems which required mental health treatment, Mr Spence said.
Mr Spence said Mr Palmer had told hospital staff: "I will plan out the method in my head, go to the desired place where I wish the scene to be set and then I will carry out the act of hurting someone.
"It could be anyone that it happens to."
Mr Spence said: "Particularly of note was his desire to kill strangers - dog walkers seemed to be a particular bugbear of his."
The trial continues.