Peter Wrighton murder: Ex-soldier found guilty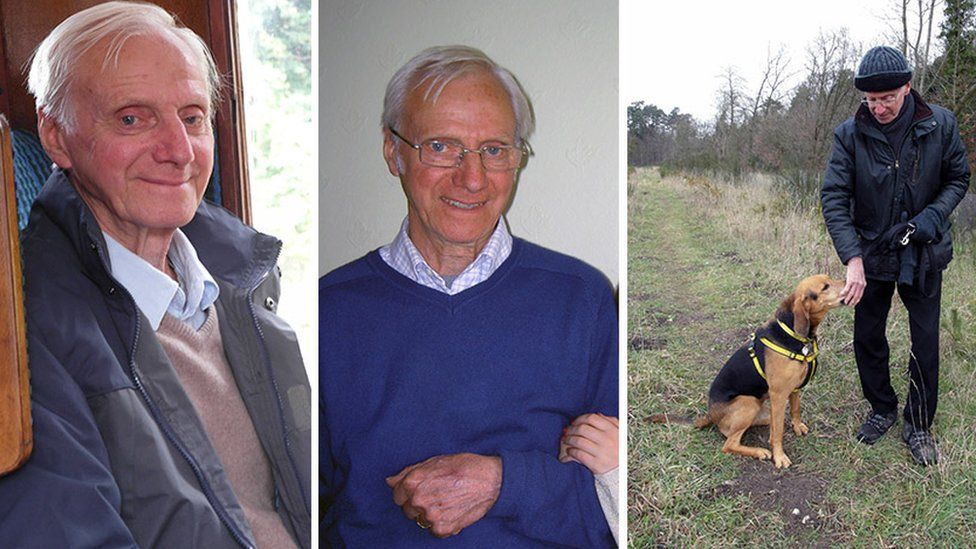 A "callous" ex-soldier has been convicted of murdering an 83-year-old dog walker in an "animalistic" attack.
Alexander Palmer, 24, stabbed Peter Wrighton from behind 45 times before dragging his body under brambles in woodland in Norfolk in August 2017.
Det Supt Marina Ericson described Palmer as a "dangerous individual".
Mr Wrighton's daughter Carole Todd said mental health professionals had "failed" Palmer and her family and believed the murder was preventable.
Ms Ericson, who led the inquiry, said Palmer was "callous and extremely calculated in his approach to Peter's death".
"Officers first on the scene described the incident as an animal attack and I think that description is still accurate," she said.
"Palmer is a dangerous individual who was truly animalistic in his actions."
Palmer, of Freesia Way, Cringleford, will be sentenced at Nottingham Crown Court on Thursday.
Mr Justice Goose delayed sentencing to allow Mr Wrighton's widow to attend and said it was "inevitable" Palmer would receive a life sentence.
Palmer mouthed the words "I love you" to his family as the judge sent him down to the cells.
He showed no emotion as the jury delivered its verdict after 49 minutes of deliberations.
Palmer had previously admitted being in the area at the time of the attack but denied murder.
During the trial the court heard police were initially unaware of Palmer and concluded the victim had been attacked and killed near East Harling on 5 August by some sort of animal, due to his throat injuries.
But a psychologist who had treated Palmer at RAF Marham read press reports of the case.
She contacted the force telling them she thought he could be responsible for the death.
Prosecutor Stephen Spence said Palmer told medical professionals a voice in his head called "Little Alex" instructed him to harm people or kill them.
Palmer was injured as a victim of an assault while serving in the Army, where he served in a commando regiment, the prosecution said. He left in November 2015.
The incident appeared to trigger problems which required mental health treatment, Mr Spence said.
He said Palmer had told hospital staff: "I will plan out the method in my head, go to the desired place where I wish the scene to be set and then I will carry out the act of hurting someone.
"It could be anyone that it happens to."
Mr Spence said: "Particularly of note was his desire to kill strangers - dog walkers seemed to be a particular bugbear of his."
The court heard forensic samples from Palmer, a trainee pathology laboratory services technician, were discovered on a trouser leg belonging to Mr Wrighton.
"Neither of these two people were known to each other," he said, and any idea that DNA was transferred via Mr Wrighton's dogs was "simply fanciful".
Ms Todd said outside court the revelations about Palmer's mental health history had "shocked, astounded and angered us".
In a statement on behalf of the family, she said: "Evidently an intelligent person, he was able to take himself off medication and get himself discharged from care.
"We feel this should not have happened and mental health professionals failed him, his family and our family.
"My mum, brother, myself and our children not only feel grief but anger, as we believe this crime could have been prevented."
A spokeswoman for the Norfolk and Suffolk Foundation Trust, which provides mental health services, said: "The trust can confirm that staff did, on more than one occasion, liaise closely with other organisations including the police to raise concerns.
"A full investigation incorporating the various agencies which have been involved in this matter is now likely to take place."
The trust said staff "acted appropriately at all times with full and proper consideration to the safety" of Palmer "as well as to the safety of others".
Related Internet Links
The BBC is not responsible for the content of external sites.