Car stuck in Norwich 'sinkhole' closes road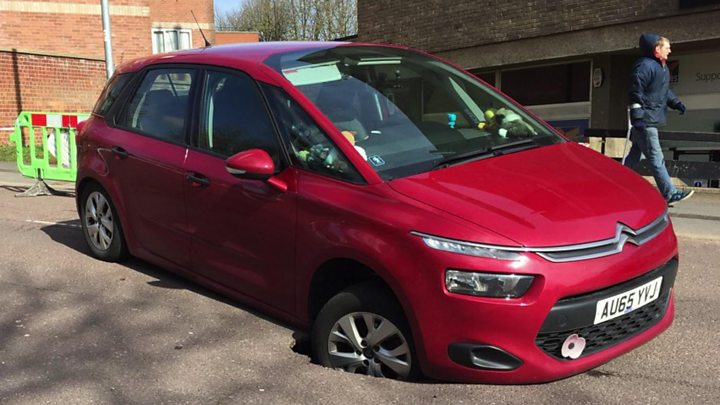 A car has become stuck after it was driven into a large hole that opened up on a busy city road.
Police in Norwich said the "sinkhole" appeared on Rouen Road at about 09:50 GMT.
Sarah Larter, 39, said her partner, 45, who did not want to be named, was parking the car when the front wheel suddenly dropped down the hole.
"We felt this boom and the car just went into the hole," said Miss Larter, who is due to get married on Tuesday.
"There were some workmen and they said to get out of the car. I was shaken and my other half was shaken as well, so not good.
"We did not see anything - we just wondered what we had hit - we just felt this bump.
"We got out and thought 'Oh God, it's a sinkhole'."
Miss Larter, from Norwich, said she had not been told how long their car would be stranded for, but hoped it would not interfere with wedding plans.
"My other half was going in the car, so hopefully we will find out if we are going to get it back," she said.
Sean Tracey, 46, who lives nearby, was travelling up the road when he saw the hole open up.
Mr Tracey said: "I was 3ft away when it went down. I heard this cracking sound and the noise made me jump out of my skin.
"The man looked really shocked.
"It was not quite as dramatic as the bus that fell down the road years ago though. My uncle was in it at the time," he said.
Water could be seen running down Rouen Road and Norwich City Council said the water board was aware of the hole.
An Anglian Water spokeswoman said: "We received reports of a leaking water pipe on Rouen Road at the end of last week.
"Our engineers inspected the damaged pipe the following day and arranged for a repair to made today.
"Unfortunately, the surface of the road has since deteriorated. Our teams will be on site this afternoon... the road will be reopened by the end of the week."