Pupil behaviour at 'McDonald's haircut' school praised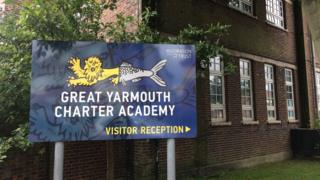 A school that hit the headlines for banning "extreme hairstyles" has been praised for reforming bad behaviour among pupils.
Great Yarmouth Charter Academy introduced new rules in September after it recorded some of the worst GCSE results in the country.
Ofsted inspectors found a "considerable decline of serious misconduct" since the measures were introduced.
Headteacher Barry Smith said a "warm but strict" approach had paid off.
Read more Norfolk stories here
The once-failing school, formerly Great Yarmouth High, was taken over in September by the Inspiration Trust, which oversees 14 academies across Norfolk and Suffolk.
Until this summer it had "some of the worst GCSE results in the entire country", according to Mr Smith, with a third of pupils leaving without a pass in English and maths in 2017.
The snap inspection was carried out on 21 February, because of concerns about the "behaviour and safety of pupils".
Ofsted inspector Jason Howard revealed pupils had spoken of "regular fights and abusive language" before the school became an academy, with "behaviour so poor that teachers were frequently the target of verbal and physical abuse".
However, a number of parents withdrew their children from the 678-pupil school when the new rules were introduced, describing them as "draconian".
"Warm but strict"
The report, released on Wednesday, said "pupils now felt safe at school" and bullying had "declined considerably".
"High attendance is celebrated," it added, and "rewarding pupils for punctuality, behaviour and achievement is promoting good conduct."
Headmaster Barry Smith, who took up the job in September, said: "This report clearly sets out the improvements that have taken place at Charter, because pupils and staff are now working together.
"The Ofsted inspectors saw what we see everyday, which is our warm but strict approach making sure that pupils can learn and teachers can teach."
Inspectors concluded that the academy should continue to work on improving behaviour and attendance.