First lorry-load of sand arrives at storm-hit Hemsby beach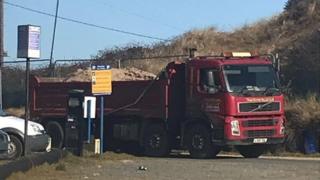 Work has started to replace sand stripped away from a beach, following storms which left a row of houses perched on the edge of a cliff.
The five wooden bungalows at risk of falling on to Hemsby beach, Norfolk, were knocked down at the weekend.
The first lorry-load of sand arrived at the village on Monday so an access ramp to the beach can be reinstated, Great Yarmouth Borough Council said.
Up to 192 tonnes of sand will be taken to the beach over the next few days.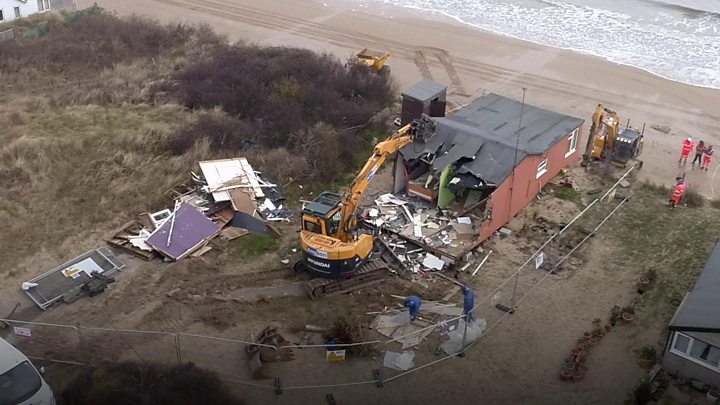 It will be transported eight miles (12km) from Great Yarmouth's North Beach, where there has been a build-up of sand.
The material will fill the gap between the beach and the lifeboat shed.
Thirteen bungalows on The Marrams in Hemsby - a mix of holiday chalets and permanent homes - were left uninhabitable after a six-metre high (20ft) dune was eroded in 24 hours just over a week ago.
Five homes were demolished over the weekend.
The eight other properties also at significant risk of falling down the cliffs are still being monitored, the council said.
One hundred lorry-loads of sand will be stockpiled at the car park at Hemsby.
It will be placed on the beach "as soon as logistically possible and subject to weather conditions", the council said.
Transporting the sand was expected to take more than a week.
More than 10,000 people have signed a petition over the last seven days, calling on the government to help fund sea defences for the tourist resort.