Tarka the Otter director dies aged 87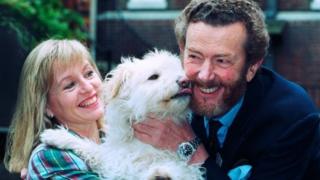 Tributes have been paid to David Cobham, the conservation film pioneer and director of Tarka the Otter and Woof!, who has died aged 87.
Cobham, who was married to actress Liza Goddard, died on Sunday following a stroke some weeks ago, his family said.
TV presenter and naturalist Chris Packham paid tribute to a "fabulous mentor and conservationist".
Cobham, who lived near Dereham, Norfolk, was a founding member of the Hawk and Owl Trust.
In 1972 the producer, director and author made Vanishing Hedgerows, said to be the BBC's first conservation film.
Packham said his mentor was "a great enthusiast with an insatiable passion for birds of prey".
He added: "David leaves a legacy of great books and films and inspiration."
The Norfolk-based Hawk and Owl Trust expressed its "deep sadness" at his death on Twitter and added that he "will be greatly missed".
Cobham was the brains behind many television nature films dating back to the 1970s and was a pioneering producer for wildlife presenter David Attenborough.
For many years he ran Sculthorpe Fen, near Fakenham, which is home to the Hawk and Owl Trust.
For his documentary The Secret Life of the Barn Owl he pioneered filming methods that are now taken for granted to show birds at night.