Norfolk PC guilty of gross misconduct for victim relationship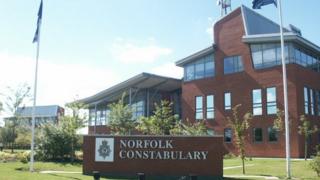 A police constable who had a relationship with a victim of crime has been found guilty of gross misconduct at a police hearing.
PC Thomas Turrell, 31, who resigned from Norfolk Police in December, was barred from serving with any force.
He was said to have pursued a relationship with a 19-year-old, referred to as Ms B, who he met at hospital after she was assaulted.
The misconduct panel said had he not resigned, he would have been sacked.
Norfolk Police said to ensure public confidence in the police, officers should demonstrate the highest level of professional behaviour.
"The behaviour of the officer was found to fall below the high standards expected," a spokesman said.
Victim of attack
The panel said the former officer met Ms B at the James Paget Hospital in Gorleston in December 2016.
She had gone there after being attacked by a group of women in a Suffolk nightclub in Lowestoft.
Force barrister Simon Walsh told the hearing it was a "depressingly familiar story" and that Turrell had used his status as an officer to pursue an improper relationship.
The police professional code prohibits officers from having relationships with anyone met through the course of duty.
Christmas call
Ms B said she only gave out her personal details as a result of the police investigation into the attack.
The hearing was told Turrell also breached standards by making an "unjustifiable" visit to Ms B on Christmas Day, a visit she was "uncomfortable" with.
The two exchanged a series of texts with one of Turrell's texts saying "I really like sexy... women."
Over the months that followed it was revealed both parties ended up in bed together.
Although not "inherently vulnerable" the panel found Ms B was still vulnerable as a victim of a crime.
Mr Turrell left the force after new rules, introduced nationally in December 2017, allowed officers undergoing disciplinary proceedings to resign while a hearing against them was active.
Mr Turrell did not appear at the misconduct hearing.