World War One Canadian cavalry charge remembered in Picardy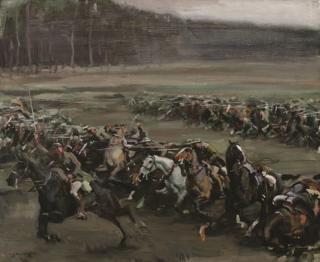 One of the last great horseback cavalry charges of World War One is being commemorated on its 100th anniversary.
The battle at Moreuil Wood in Picardy, France, was led by Norfolk-born Lt Gordon Flowerdew of the Canadian army, who died from his injuries.
The cavalry advanced into German machine gun fire to successfully stop them taking the nearby city of Amiens.
The Royal Canadians will stage a symbolic recreation of the charge in Picardy using local horses.
Lt Flowerdew, who was born at Billingford near Diss, and went to school at Framlingham College in Suffolk, was posthumously awarded a Victoria Cross for gallantry.
At 17, Lt Flowerdew left school, emigrated to Canada and worked on a ranch before joining the cavalry.
'Tears streaming'
Two thirds of his unit, about 100 men, were killed or wounded in the battle on 30 March 1918.
Robert Mackay, the son of Tom Mackay, who was one of the Canadian survivors, told the BBC: "My dad was right behind him.
"When Flowerdew went down he was very upset, suffering from his wounds but also tears were streaming down his face at the carnage that had been wrought on his men."
Sgt Paul Kruhlak, of the Royal Canadians, said: "[Lt Flowerdew] faced machine gun fire and a barrage of explosions. He held fast and got his men into the battle.
"The soldiers [involved in the commemoration] have already mentioned how it is hitting them pretty hard."